Ameristar Montage rackable steel fence
Crafted with the beauty that adds a decorative touch to any landscape, Montage Ornamental steel fence by Ameristar offers a durable, more appealing and affordable alternative to chain link.
Available in black or bronze Ameristar's Montage Ornamental steel Pool, Pet & Play design provides closer picket spacing than traditional aluminum for greater safety and security. The galvanized and e-coated fence system of Montage fence delivers the surface protection that gives endurance in any climate and is backed by a 20 year manufacturers warranty.
Montage Ornamental steel fence panels are fabricated using Ameristar's revolutionary ProFusion process that combines fusion and laser technology to weld strong, virtually invisible structural connections without typical fasteners. 'Rackable' to accomodate a 30 inch rise over 8 feet, Ameristar's Montage Ornamental steel ATF (all terrain fence) maintains it's ability to withstand the abuse that would damage or destroy an aluminum panel.
Montage Ornamental Steel is available in standard and custom heights and a style that's just right for your outdoor living area.
Classic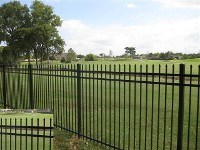 Genesis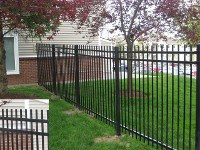 Majestic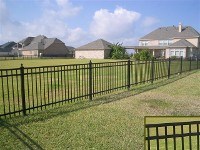 Warrior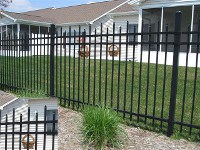 Montage ProFusion technology
All members of the Montage® family of fence products are manufactured with ProFusion technology. ProFusion is the revolutionary automatic process that combines fusion and laser technology to effect simultaneous welding of all pickets and rails in a panel in mere seconds. Pre-punched rails allow for picket insertion through the centerline of the rail; facilitating a "good-neighbor" profile with and identically smooth streamlined contour on both sides of the fence. The process ensures rigid, yet virtually invisible, structural connections with no unsightly exposed fasteners.
Ameristar Americoat™ surface protection
Montage ornamental panels and posts are actually coated inside and outside. Every other product available in America is only coated on the outside. Major corrosion problems start from the inside. Galvanized steel framework is subjected to a multi-stage pre-treatment/wash (with zinc phosphate), followed by a duplex cathodic electrocoat system consisting of an epoxy primer, which significantly increases corrosion protection, and an acrylic topcoat, which provides the protection necessary to withstand adverse weathering effects.