Chain Link Fence Top Lock Privacy Slats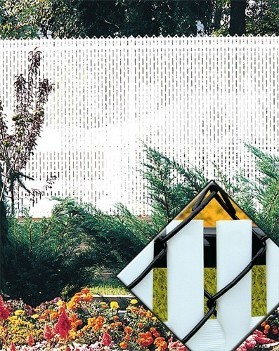 Chain Link Fence Top-Lock Privacy Slats

The Top-Lock Slat provides an economical and attractive way to enhance any chain link fence. This design utilizes a top-locking mechanism located near the of the slats to ensure a clean, straight edge, further enhancing its appearance.
DESIGN: Top-Locking slats are flat and tubular in shape, with circular, notched-out holes located near the top of the slat. The flexible top locking channel is available in 200 foot rolls for larger installations (special order item)
STANDARD HEIGHTS: 3, 42″, 4, 5, 6,7, 8 10 and 12 feet.
SLAT LENGTH: two inches shorter than overall height of the fence
WIND LOAD AND PRIVACY FACTOR: Approximately 75%.
Pricing
Each package of Top Lock chain link privacy slat covers approx. 10 linear feet of 2 inch diamond chain link.
3 foot: $30.25 each
42 inch: $33.79 each *special order item
4 foot: $35.59 each
5 foot: $42.66 each
6 foot: $49.61 each
7 foot: $60.84 each
8 foot: $66.94 each
10 foot: $90.29 each
12 foot: $112.94 each
Prices effective 6/1/12
Top Lock Slats | Winged Slats | Hedge Slats | Slats Page | Chain Link Page