Chain Link Fence Winged Privacy Slats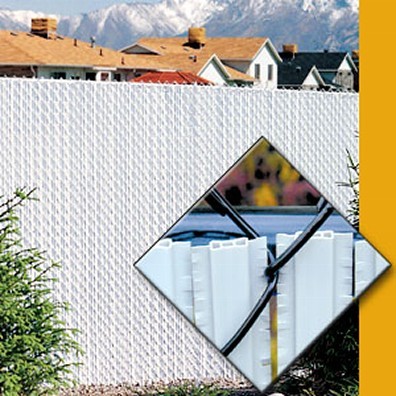 Chain Link Fence Winged Privacy Slats

When you need increased privacy, our Winged Slat is the answer. With the proven quality and durability of our standard slats plus unique "wings" for extra screening and security. These slats are self locking – no channels needed!
DESIGN: Our unique patented design includes a rigid, flat tubular body with "legs"inside for extra support. Flexible and resilient wing portions are positioned on each side of the slat body. Serrations are added to the wings for easier installation and locking power.
STANDARD HEIGHTS; 3, 42″, 4, 5, 6,7 and 8 feet. For heights over 7 feet, we recommend using two half sizes (i.e. for 10 foot fence use two 5 ft. slats) this will help during installation and not lessen privacy.
SLAT LENGTH: two inches shorter than overall height of the fence
WIND LOAD AND PRIVACY FACTOR: Approximately 90% (based on wire/mesh used and stretch tension.
NOTE: Additional time should be allowed for installation
Pricing
Each package of Winged Slats chain link fence privacy slats covers approx. 10 linear feet of 2 inch diamond chain link.
3 foot: $39.44 each
42 inch: $42.08 each *special order item
4 foot: $42.83 each
5 foot: $53.84 each
6 foot: $59.33 each
7 foot: $75.15 each
8 foot: $83.39 each
Prices effective 6/1/12
Top Lock Slats | Winged Slats | Hedge Slats | Slats Page | Chain Link Page